Complete CAD Design Service
As simulation engineers, we work very closely with CAD data as a common medium to communicate ideas and solutions. Our experienced team can help achieve your design goals ranging from de-featuring existing CAD files for simulation to creating high quality production ready parts. Outsource all of your CAD designs or have our engineers collaborate with your team remotely or on-site.   We offer CAD design services based on Solidworks and the 3D Platform (formerly CATIA).
Our CAD Design Services include:
Develop complex parts based on Generative Shape Design techniques.
Advanced surfacing including Class A surfaces
Perform curvature connectivity analysis to ensure quality production
Rigid-body motion and kinematics
Geometry optimization based on FEA
Design parts for 3D Printing
Geometry Optimization
We offer both topology and feature-based parametric optimization.  Finite Element Analysis (FEA) is used to optimize geometry which is the science of removing unneeded material to achieve the desired strength characteristics.  Benefits of optimization includes the reduction of undesired weight and costs.  We perform FEA  at every geometric iteration to determine where material can be removed.  The CAD model is then modified to reflect these changes.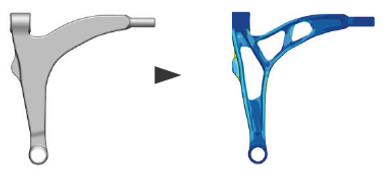 Topology FEA optimized CAD bracket based on TOSCA
Advanced Surfacing
Many designs can be modeled with a G2 continuity surface type which provides for a transition across a common edge resulting in tangent connecting faces. However, in some applications where aesthetics and ergonomics plays an important factor, a more precise G3 matching surface may be required. These high precision Bezier surface is commonly referred to as a Class A surface.
Our advanced surfacing capabilities include:
Create new and modify existing G3 or Class A surfaces without data conversions
Generate parametric and feature based surfaces
Develop scripts and macros based on Bezier theory to create custom surface solutions
Integrate G3 or Class A surfaces with engineering G2 surfaces
Perform analysis to validate G2 or G3 continuity between connecting surfaces
Reverse Engineering
We convert common imaging modalities including CT scans into useful parametric CAD, STL or FEA meshes.  For image data with artifacts such as streaks and dark bands, we can repair and reconstruct image sets that are common when scanning metallic components.
Following scan image data sets are supported:
Computed Tomographic (CT)
Scanning Electron Microscopy (SEM)
Digital Imaging and Communication in Medicine (DICOM)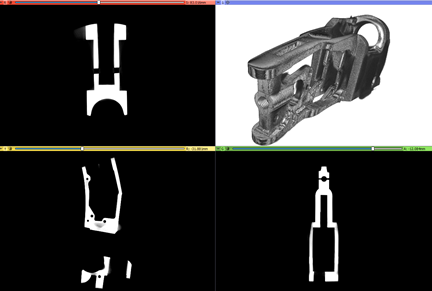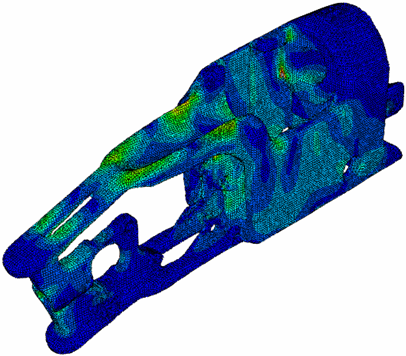 Converted CT imaging of a metallic part to an Abaqus Simulation