Analyze Fluid Dynamics to Drive Better Product Development
We offer CFD consulting services to help you achieve your business and engineering goals of fluid applications. CFD has become an indispensable simulation tool to analyze complex thermal and fluid phenomena. CFD solvers are commonly used to reduce development costs, optimize product performance and efficiency—and overcome the limits of product development.
With the power to visualize the complicated movement of a gas or liquid flow, or analyze fluid behavior in areas such as aerodynamics, heat transfer, hydrodynamics, and micro-fluidics,  CFD provides a powerful model to simulate fluid flow and predict performance of products before physical testing.
CFD Capabilities
We use a variety of CFD solvers depending on the application and goals of the project. Our main CFD solver of choice is XFlow from SIMULIA, a division of Dassault Systemes.  The key capabilities of Xflow include:
High Fidelity Particle-based Lattice-Boltzmann solver
Single and Multiphase flow models
Free surface and Large Eddy turbulence models
Non-Newtonian flow
Rigid Body Dynamics of moving parts or coupled with Simpack from Dassault Systemes
Fluid-Structure Interaction (FSI) coupled with Abaqus for detailed stress analysis
Aerospace & Defense
Drag and lift analysis flow
Pressure and skin friction load distribution
Deployment of moving components such as flap positioning
Turbulent and supersonic flow

Turbulent simulation using XFlow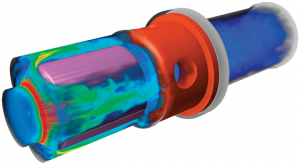 Airflow around an industrial component using XFlow
Industrial Equipment
Internal moving parts including actuators and pumps
Simulate mixing of multiple fluids and particles
Passive and Active Electronic Cooling
Simulate lubricants including other non-Newtonian viscous liquids
Contact Us
To discuss a fluid or CFD consulting project with one of our experts, please fill out the form and we will contact you soon.