Using Abaqus Finite Element Analyses to Evaluate Cardiovascular Stent Designs
Stents are commonly used during cardiovascular intervention to treat coronary artery disease.  Abaqus is an extremely effective tool in simulating the behavior of stents made with Nitinol (NiTi) and Stainless Steel (SS) along with a growing use of bioabsorbable materials made with Polycaprolactone (PCL) and Polylactide (PLA) due to their hydrolytic degradation characteristics.
Stent Modeling
A typical stent undergoes a series of loading steps which can impact the safety, performance, efficacy and overall durability of the design.  These vary depending upon the type of stent and the material from which it is made.  Typical steps include:
Crimping to reduce the diameter of the stent to allow delivery to a specific location in the body
Deployment of the stent to a specific location in the body and its expansion to the interior vascular wall
With the stent deployed to its location in the vasculature, evaluate the ability of the device to withstand a 10 year equivalent fatigue life due to the cyclic pulsation from blood flow
In addition, in cases using super-elastic/shape memory materials (Nitinol), loading steps can include sequences of expansion and annealing involved in the manufacturing of self expanding stents.  In cases using ductile metals (Stainless Steel), loading steps can include balloon expansion and the quantification of stent recoil and foreshortening as part of the deployment.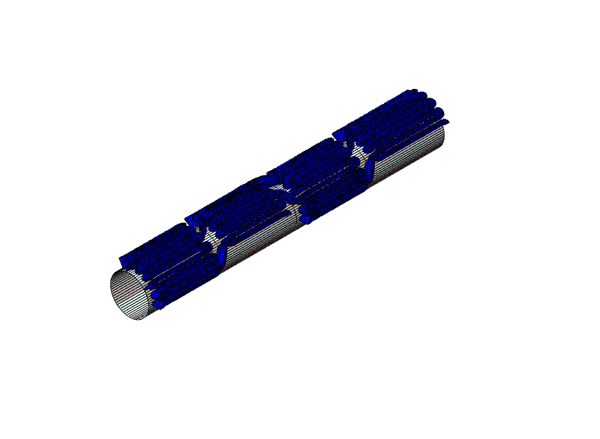 Benefits of using Finite Element Analyses for Stent Evaluations
Accurately represent stent geometry and the entire loading history of the device
Assist in the definition of manufacturing steps involving expansion and annealing
Evaluate various stent topologies for deformations, stresses, strains and fatigue life estimation
Understand the effects of balloon / stent interaction during deployment
Simulate the device-vessel interaction during stent placement and deployment
Identify peak stress/strain locations that may adversely influence the safety and efficacy
Estimate the response of the implanted/deployed device to fatigue loading
Benefits of using Abaqus for Stent Evaluations
Abaqus is widely accepted as having the necessary capabilities and functionality to enable highly sophisticated and detailed device and system evaluations
Abaqus has advanced material models to enable modeling of complex materials such as shape memory/super-elastic materials